Lent, Holy Week & Easter 2023
Lent, Holy Week & Easter 2023
Thank you everyone for joining us through Lent, Holy Week and Easter. The livestreams of our key services can be found below (although note an issue that we've found). Our Stations of the Cross services can be found HERE.
Due to Facebook's obtuse copyright protection, we have noticed that some videos are being blocked. While you may not easily be able to view them live on this page, you can still click on the videos and watch them in Facebook without signing in. Sorry for any inconvenience.
Our services this Lent and Holy Week:
Wednesday 22nd February – Ash Wednesday Holy Communion, 7.30pm
Wednesdays 1st, 8th, 15th, 22nd, 29th March – Stations of the Cross, 7.30pm
Sunday 19th March – Mothering Sunday Holy Communion, 10.30am
Sunday 2nd April – Palm Sunday Holy Communion, 10.20am (starting outside the Vicarage)
Thursday 6th April – Maundy Thursday service, 7.30pm
Friday 7th April – Good Friday Hour by the Cross, 2pm
Friday 7th April – Easter Wild Church, 3.30pm
Saturday 8th April – Easter Vigil, 7.30pm
Sunday 9th April – Easter Day family communion, 10.30am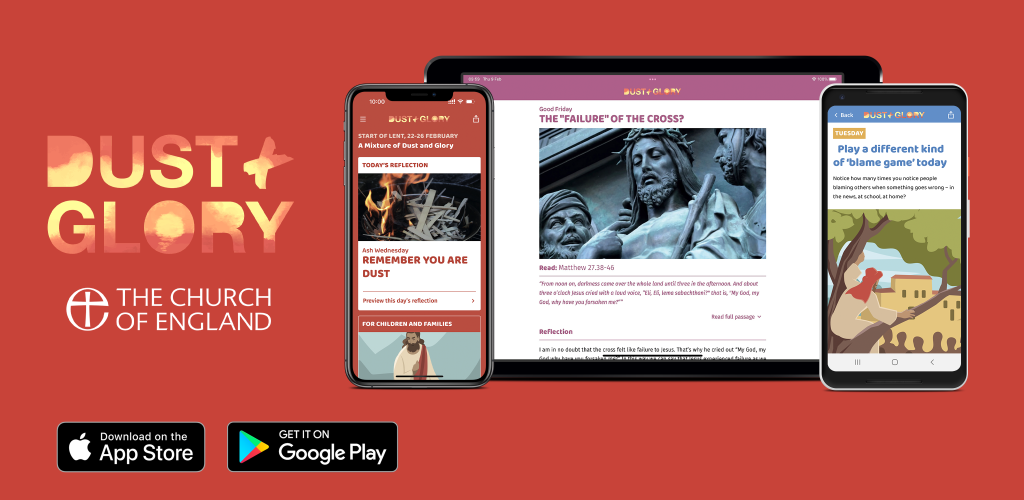 Dust and Glory is the Church of England's Lent campaign for 2023. It contains daily reflections for both adults and children to help us find God in the mess of everyday life, one for each of the 40 days in Lent. The app contains the reflections for both adults and children, along with full audio.
To find out more CLICK HERE.
Ash Wednesday – 22nd February, 7.30pm
Mothering Sunday – 19th March, 10.30am
Passion Sunday – 26th March, 10.30am
Palm Sunday – 2nd April, 10.15am
Maundy Thursday – 6th April, 7.30pm
Good Friday – 7th April, 2pm
Easter Vigil – 8th April, 7.30pm
Easter Sunday – 9th April, 10.30am